Boomerang unleashes the power of GIFs
You know those short "repeating movies" you see on your Facebook or Twitter feed? (At least they look like movies, but not as smooth.) Although they look like movies, they are actually GIFs, not movies. GIF (pronounced "Jif") stands for graphic interchange format, which is fancy tech speak for moving pictures. A GIF combines multiple photos taken at fast intervals and combines them to make what looks like a short moving picture that repeats.
Here's an example of a GIF:
The Boomerang app (by Instagram) is available on iPhone, iPad, and Android devices. It gives users the ability to make ultra short (>1 second) GIFs with the camera on your wireless device.
Here's a GIF of a person recording a Boomerang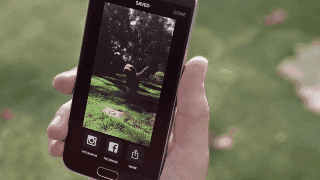 There are multiple ways to use this app in the classroom:
Capture a student's form during a physical education activity

Have student's capture or represent emotions related to an assignment

Have student's reenact historical moments (such as the Nixon's "peace signs")

More!
This app works extremely well if you are already using Instagram in your classroom as students can share a Boomerang to an Instagram account with one tap. Students can also share it to Facebook easily. If you don't have a class Instagram or Facebook account, students also have the ability to email a Boomerang from their device.